Frank Denton Denke (6/17/1934 – 1/29/2021)
I didn't get the opportunity to 'grow up' with my big brother Denton and oldest sister Diane, since these first born 2 siblings had already left the nest. Our mother Virginia (singing in the photo) behind our father Frank R. Denke (playing the piano) really spread the 4 of us out in age: My brother was born about a year after our parents married, followed by my sister Diane (not pictured) a few years later. 10 years after Diane my sister Connie was born (the teen girl singing), and 12 years later I came along. I'm the little girl in this newspaper article, looking up at her big brother, who planned to leave for the following 3 years doing Catholic Charity work as a teacher in Chile.
My sister Diane was missing from this newspaper article because she was away in the convent, and at the time The Sisters were under strict rules about how often they could visit even their family members. Here is a picture of Diane a few years before I was born:
And here she is, a few years after (front row, second from the right):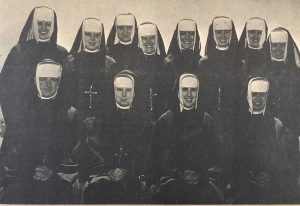 Thankfully, restrictions loosened for Diane; after I became an adult I really got the chance to grow close to my oldest sister and brother! All of us had music and dance (mom Virginia was a stage dancer) in our backgrounds; Diane and Connie were drawn to singing, but it was my brother and I who inherited our father's love of playing the piano. Which leads into an interesting story…
Daddy (Frank R. Denke) was an exceptional musician. He was not only gifted at playing the piano in many styles, but also a composer of symphonic & sacred works, a church organist, an excellent sight reader, a lover of jazz, and a first call musician because of his willing and dedicated dimeanor plus loving attitude towards all people. You can read more about our father in my article,
My father supported 4 families as a working musician during The Great Depression – it was an era where people saved their pennies to go out at night, forget their troubles, and dance as a fun activity. Daddy was employed by dance bands and other orchestras, during an age before people had home entertainment centers, tape or video players, internet TV, and the like.
My father and a musician friend/collegue had a hard talk with my brother, who also inherited the 'music gift' from our dad. They told my brother, in the most kind and upfront way, that although he had a lot of talent at the piano, he probably should choose another line of work, just because times were harder for musicians to make a living, and my brother might want to raise a family with a "real job" someday. (My parents on the other hand, didn't try to discourage me from pursuing piano with a passion, because in a kind of reversed way they expected I'd marry a 'well established businessman', who might 'let me do my music', after I took care of the housework, meal cooking, packing of his suitcase… I've only been attracted to musicians, so you can see how that idea played out 😉
Here's a photo of my brother Frank Denton Denke with our father Frank R. Denke:
Now as things happened, my amazing brother listened to the advice. He had many interests in addition to music – one of them being languages. Bub (as I affectionately called my big brother), already was fluent in 4 languages: German, Russian, Latin, English. (His army service time was spent as a translator for the  United States Government). As a last resort before "settling down" and doing his volunteer work for the Catholic Church, my brother decided to learn Spanish before he was stationed in Chile as the teaching part for a Christian school charity/evangelist team. Truth be told, he didn't make it as far as the newspaper article predicted.
My brother stopped in Mexico to learn Spanish to prepare him for his mission work, and fell in love with his Spanish teacher along the way!
They got married while my brother was flat broke. To make their way as a couple back to the United States my brother supported them by playing piano in restaurants and hotels, just so they had a place to stay and food to eat.
My dear brother and sister-in-law raised 9 children, part of the time spent on a farm raising chickens for eggs to eat, goats to milk, a 3 legged Collie who brought in the sheep when called, and a cow who came home from the field when my oldest nephew Paul blew his trumpet. Bub got a job as a top salesman for IBM, working for 27 years at that job!
But one of the most amazing things to me was how my brother could efforlessly pick up the piano, without touching it for 6-12 months, and play tune after tune as though he never left the instrument's side! True Confession: I, on the other hand, must constantly practice or I'll forget most everything!
Later in life Frank Denton Denke and his "pretty gal" (as he affectionately called his wife) moved back to Mexico, where my brother would send me his amazing photos of flowers he took in their home garden. I shared many of my brother's lovely flower pictures on FaceBook, which I called "Bub's Buds", using some of the most stellar ones to set to my piano, creating videos to add another dimension in the joy of sharing flowers plus music to others!
My posthumous "Bub's Buds" final video is called To Be There. When I saw his Fortnight Lily appear as a recent memory, I felt it was beckoning to be brought to musical life, a fortnight after his passing:
Denton was a devoted family man and husband. My brother would send out monthly birthday notices, each with a personal mention, to keep our growing family updated. He and my sister-in-law Ginnie celebrated 58 years of marriage, through thick and thin. They truly loved each other, as you can see in the last 2 photos comforting each other after medical procedures – if you turn the photo sideways you can see how they form a heart: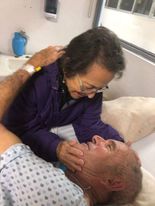 This article ends with my brother Frank Denton Denke playing the piano from his heart while visiting family. You'll see Bub playing freely for one of his many musical grandsons, after not touching a piano for at least a year or more, in his own sweet way: